June 04, 2007
M*A*S*H
I was surfing on Amazon a while back, looking to complete my M*A*S*H DVD series when I came across a surprising find. It was a book by Jeff Maxwell who was often seen dishing up all that unappetizing food in the mess tent. The book title is "Secrets of The M*A*S*H Mess: The Lost Recipes of Private Igor".
I couldn't resist, I had to check out what it was all about. The following is the Editorial Review posted on Amazon:
If you think war is hell, just try the food in the mess tent! For 11 years, fans of the television program M*A*S*H experienced the Korean War through the eyes of the doctors, nurses, and support personnel of the 4077th Mobil Army Surgical Hospital. One of the most important, though least appreciated, members of that brave band was Private Igor, the company cook. Almost every episode of M*A*S*H contained some reference to food--and it was never good. "Our food here leaves a lot to be desired," Commanding Officer Colonel Henry Blake states in one show. "Oh, it fills you up if you can keep it down." Regarding the breakfast entrée, Hawkeye Pierce exclaims, "I'm sure that was the same bacon that wrote Shakespeare's plays!"
So why, if Private Igor's food was so bad, should any cook in his or her right mind be interested in a collection of his long-lost recipes? According to Jeff Maxwell, author of Secrets of the M*A*S*H Mess and the actor who portrayed Igor for more than a decade, inside that poor, much-maligned purveyor of army swill was a gourmet chef struggling to get out. Imagine, if you will, what Private Igor might have been capable of if he'd had ingredients such as cilantro, turkey sausage, Kahlú'a, or fusilli pasta? A quick glance at recipes such as Helmet Hash, Pre-Op Novocaine Shake, and Winchester's Wilted Lettuce Caesar Salad will give you some idea. And while you're whipping up a Company Clerk Quiche, you can amuse yourself by perusing the many photographs, quotes, and letters home from Private Igor that are scattered through the pages of Secrets of the M*A*S*H Mess.
Some of the other interesting recipes in the book include:
* Hawkeye and Trapper's Swamp Spaghetti
* Winchester's Upper Crusted Chicken
* Hot Lips Tri-Tips
* Pork Choppers with Barbeque Sauce
* Stuffed Seoul
* Radar's Teddy Bear Turkey Loaf
* The Colonel's Kernel Stew
* Toasted Tank Tuna
* Hunnicut's Homesick Cookies
* Intravenous Drip Dip

more...
Posted by: Bunny at 01:25 PM under "M*A*S*H"
No Comments Yet | Hop into the conversation
Post contains 412 words, total size 3 kb.
May 22, 2007
Did You Realize...
that M*A*S*H had a huge array of guest stars? As you may know, I'm a huge M*A*S*H fan. I fall asleep to the show every night, I know each and every episode so well, I can lay down, close my eyes and know what's happening just by the dialog, and I know a lot of the dialog by heart. Sad isn't it.
In my continuing effort to post bits and pieces about this beloved show, I have compiled a list of guest stars that were on the show, many of whom were on the show before they found fame elsewhere. Check it out....Bunny
more...
Posted by: Bunny at 05:21 PM under "M*A*S*H"
Comments (2) | Hop into the conversation
Post contains 371 words, total size 5 kb.
May 08, 2007
McLean Stevenson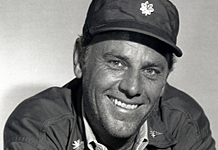 Born on November 14, 1927, McLean Stevenson was the great-grandson of United States Vice President Adlai E. Stevenson. Growing up as the son of a cardiologist, McLean only followed in his father's footsteps through his acting. It wasn't until he was in his early thirties that McLean started to seriously look into a career as a professional actor. Early on, Mclean was in the U.S. Navy then went to Northwestern University where he earned a B.A. in Theater Arts. After college, he had several jobs such as working at a radio station, selling medical supplies and insurance, directing at Northwestern and playing a TV clown in Dallas on a live TV show.
more...
Posted by: Bunny at 10:40 AM under "M*A*S*H"
No Comments Yet | Hop into the conversation
Post contains 489 words, total size 3 kb.
May 06, 2007
My Love of M*A*S*H
In the weeks and months ahead, I plan to post about the much loved TV series M*A*S*H. I will have articles on the actors, trivia, and irregularities and possibly some Q & A. For now, I offer you this link to some M*A*S*H bloopers....Bunny
Posted by: Bunny at 01:43 PM under "M*A*S*H"
Comments (1) | Hop into the conversation
Post contains 48 words, total size 1 kb.
14kb generated in CPU 0.02, elapsed 0.036 seconds.
35 queries taking 0.0236 seconds, 49 records returned.
Powered by Minx 1.1.6c-pink.