June 29, 2007
Interesting Invention
As I have mentioned before, my bunny Ozzie loves to be petted. Yesterday, we let him run around the sewing room and he found a way to stay cool, relax and have his head petted at the same time. Check it out....Bunny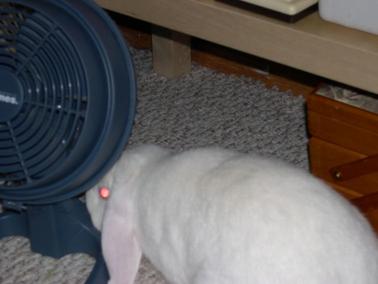 As the fan oscillates, it brushes over his head and gently pets him.
Posted by: Bunny at 10:59 AM under "Bunny Hop"
Comments (2) | Hop into the conversation
Post contains 57 words, total size 1 kb.
May 21, 2007
House Rabbits
As I mentioned before, I love Bunnies. We have 3 in our house. We started over a year ago with a small Holland Lop named Fred. Actually, his name started as Severn because the people who originally rescued Fred found him in an area around the Severn River. When he was taken to Bunny Lu , the rescue organization we work with, he was renamed Fast Freddie, we later shortened his name to just plain Fred. Fred is shy, a bit skittish but a lot of fun to watch and play with. His coloring is called sable grey.
Fred

After we had Fred for a few months, we decided to try to bond him with a female. Rabbits bond for life with a mate, usually one of the opposite sex however some bonded pairs are same sex. We chose a female named Java. She was one of many siblings that were all named for types of coffee. Java to me, looks like a chocolate Easter Bunny that came to life. She is a bit friendlier than Fred and the bonding process went very quickly, quicker than normal. She and Fred share a cage and play yard together, they cuddle when they sleep, groom each other and play together. If she shows any interest in our third bunny, Ozzie, Fred turns green with jealousy and chases her around their habitat. Maybe I should get Fred a wife beater t-shirt, he sure acts the part when he's jealous.
Java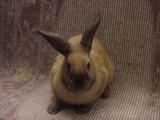 Our third bunny, is Ozzie. As Mookie would say, he's the worlds coolest rabbit. Ozzie is a pure white lop with ruby red eyes. Originally, we had planned to just foster Ozzie until he could be adopted out, but when someone was interested, we had already fell in love with him and couldn't give him up. Ozzie is the ideal house bunny. He loves to be petted and cuddled, our affection for him is reciprocated with his nuzzles and contentment. We let all the bunny's take turns running the room for exercise and Ozzie will hop over to where I'm sitting, push his head under my foot so that I can pet him.
Ozzie.

House bunnies are the third most common house pet. They are very easy to take care of. All they require is hay, water, pellets and treats, for which they will beg on hind legs. They use a litter box, making clean up a breeze and are happy either in their cage or out amongst the humans and dogs (we have 2 small dogs as well). One of the things I like best, compared to dogs, you don't get a wet face in the middle of the night to let them outside and they don't bark every time they hear a noise outside or a knock on the door. Of course, like other pets, they also need love, which will be returned ten fold.
If you are considering a new pet, do some research and check into house rabbits. There are plenty of good adoption agencies, such as Pet Finder out there where you can adopt a rescued rabbit, which in my opinion is a much better thing than keeping breeders in business…..Bunny
Posted by: Bunny at 09:19 AM under "Bunny Hop"
No Comments Yet | Hop into the conversation
Post contains 535 words, total size 3 kb.
11kb generated in CPU 0.06, elapsed 0.0637 seconds.
34 queries taking 0.054 seconds, 43 records returned.
Powered by Minx 1.1.6c-pink.